General Dentistry
Comprehensive Exam and Planning
We all know that good oral hygiene keeps your teeth looking clean and shiny, but did you know that it's also essential to your overall health? It's true, poor oral hygiene can lead to a variety of dental and medical problems such as gum disease, infection, heart disease, stroke, and even diabetes.
That's why dentists recommend that teeth be examined and cleaned professionally twice a year.
A comprehensive dental examination involves the close inspection of the teeth and tissues of the mouth using physical assessment and other diagnostic aids. The examination identifies tooth decay and evaluates the health of the gums and other oral issues. The patient's bite and oral hygiene are also assessed, as well as the patient's satisfaction with his/her smile. Our dentists then recommends the best treatment options.
At Esthetique Dentistry, we pay particular attention to the health of the gum tissues. Gum (periodontal) disease is the most common dental problem we see, and may be a contributing factor to other health problems such as heart disease and diabetes. It is generally a painless disease until its later stages, so many patients don't know they have it until permanent damage has occurred. Your gums will be thoroughly examined at each cleaning and comprehensive exam appointment.
For our patients with greater needs, we sit down together to discuss treatment options, costs and expectations before treatment begins. This approach allows you understand our recommendations completely, make comfortable financial arrangements and have input into your treatment planning. We seek to partner with you in your management of your oral and dental wellness, and we act as trusted advisors to provide you with the information and options you need.
We are dedicated to providing the highest standard of quality in all dental procedures to ensure our patients' complete satisfaction. Using state-of-the-art dental technology, we have improved thousands of smiles, and we want to do the same for you. To schedule an appointment or a consultation, please contact us today.
Related Oral Hygiene Articles
Oral Hygiene – Dental Health for Life
The best tools for maintaining your oral health and minimizing dental problems are a quality toothbrush, toothpaste, a roll of dental floss, approved mouthwash and good diet. Unfortunately, myths and folklore abound on how and what to use to best effect. This article cuts through the confusion with a winning game plan for oral health... Read Article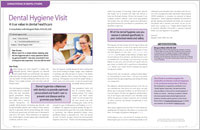 Dental Hygiene Visit
Each dental hygiene visit begins by reviewing your health history to identify issues that may necessitate special precautions during dental hygiene care to ensure your safety and to prevent medical emergencies... Read Article
Flossing - A Different Approach
Flossing is important but challenging for some - this approach may make your life easier! Research suggests that while most people will habitually brush their teeth, developing a flossing habit is still a bit more difficult. Flossing however, remains the best method for most effectively removing plaque from between the teeth where the brush won't reach... Read Article