General Dentistry
Cosmetic Dentistry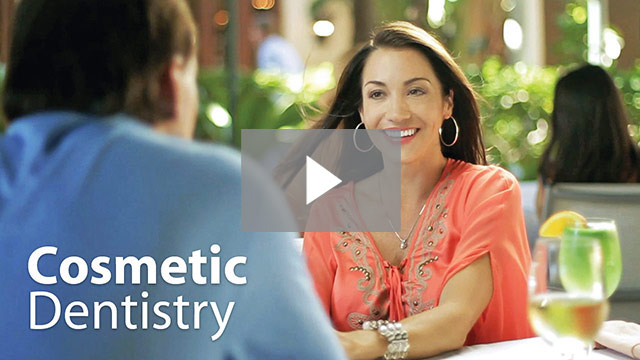 "Beauty is power; a smile is its sword." ~Charles Reade
A great smile--there are many great quotes about how important it is in life. Many tell of how a great smile creates a great first impression., or how it makes people feel more warmly towards the bearer.
But what makes a beautiful smile? Terrific smiles have several things in common:
The teeth are straight
The teeth are evenly spaced with no gaps
The teeth are white and smooth, not stained or pitted
The top teeth show when you smile, but not excessive gum tissue
The gum line is smooth and even
The edges of the top teeth follow the curve of the lower lip
A healthy, attractive smile provides a lifetime of benefits. For many, an attractive smile enhances confidence and self-esteem. If you feel that your smile doesn't quite measure up, let us show you the possibilities. We can analyze all aspects of your face, lips, teeth, and gums, in order to tailor a plan to give you the smile you've been searching for. It's rarely too early or too late to improve your smile.

If your teeth have spaces between them, are broken or chipped, have unsightly fillings, are stained or crooked, cosmetic dentistry can correct the problem.

Cosmetic dentistry transforms an average smile into a sensational smile!
These days a brand new smile often results in a new feeling of confidence for the wearer and can even make you look years younger. That's why we offer a complete array of cosmetic dentistry to our patients who want to improve their smile:
Porcelain Veneers
Tooth Bleaching / Whitening
Tooth Bonding & Tooth-Colored Fillings
Cosmetic Re contouring: Reshaping of Teeth
Gum Trimming
So whether you want to fix a chipped tooth or get a complete smile makeover, we can help you achieve the smile you've always wanted. For more information or to schedule an appointment, please contact us today.
Related Cosmetic Dentistry Articles
Cosmetic Dentistry – A Time For Change
Join us as we review the myriad of possibilities available to you for cosmetic dental change. But the biggest part is not just how your smile looks, it's how you feel when you show it... Read Article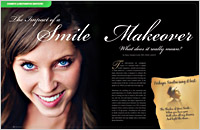 The Impact of a Smile Makeover
Americans are catching on to the emotional and social importance of a healthy, beautiful smile, and they're seeking out ways to improve their smiles. Learn why and what a change could mean for you... Read Article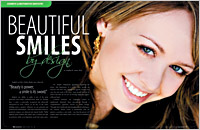 Beautiful Smiles by Design
The first in a series of articles dedicated to the "art and science" of designing a more appealing smile. One of the country's foremost leaders in cosmetic dentistry discusses how you and your dentist partner to create a great new look... Read Article
How And Why Teeth Wear
Are teeth supposed to last for a lifetime? And are humans designed to live for up to a hundred years? Given all the current improvements in the areas of medicine and health, both general and oral, people are not only living longer, but they are also keeping their teeth longer. This article will provide an overview of the "oral system" and one of its more common and important occurrences, tooth wear... Read Article