As part of the full set of dental services that Esthetique Dentistry provides, we have Periodontal surgeons as part of our team who perform specialty dental procedures in our offices.
Our patients benefit from having the convenience of these services offered in a familiar, comfortable environment, and they also benefit from the significant knowledge our specialists bring to consultations and treatment planning.
What is a Periodonist?
A periodontist is a dentist who has completed a university post-graduate specialty program in periodontics. Periodontal specialty programs are an additional two to three years in duration following graduation from the four year dental school program.
Periodontics is a specialty of dentistry that deals with the maintenance of health and the diagnosis and treatment of gum disease, as well as the placement of dental implants.

What are the periodontal procedures offered at Esthetique Dentistry?
Scaling and Root Planing
The objective of scaling and root planing, otherwise known as conventional periodontal therapy or non-surgical periodontal therapy, is to remove or eliminate the etiologic agents which cause inflammation: dental plaque, its products and calculus,thus helping to establish a periodontium that is free of disease.
Periodontal scaling procedures "include the removal of plaque, calculus and stain from the crown and root surfaces of teeth, whereas root planing is a specific treatment that removes the roughened cementum and surface dentin that is impregnated with calculus, microorganisms and their toxins."
Scaling and root planing are often referred to as deep cleaning, and may be performed using a number of dental tools, including ultrasonic instruments and hand instruments, such as periodontal scalers and curettes.
The goals of scaling and root planning are to resolve the signs of inflammation, and to reduce pocket depths and detectable plaque to a level associated with periodontal health. Ideally we can halt the progression of the periodontal disease.

Periodontal Maintenance:
Periodontal maintenance is the procedures and protocols employed to clean and maintain the teeth and gums following a diagnosis and stabilization treatment of periodontal disease. Periodontal disease in not 'cured', only 'arrested'.

The procedures may appear to the patient to be very similar to a regular cleaning, but because the dentist or hygienist must now evaluate, instrument, and monitor the tissues differently and quite often more frequently, the procedures must be differentiated.
Gum Grafting:
A gingival graft (also called gum graft or gingival plastic surgery) is a generic name for any of a number of surgical periodontal procedures whose combined aim is to cover an area of exposed tooth root surface with grafted oral tissue. The covering of exposed root surfaces accomplishes a number of objectives: the prevention of further root exposure, decreased or eliminated sensitivity, decreased susceptibility to root caries and improved cosmetics. These procedures are usually performed by a an oral surgeon or a a periodontist, but may be performed by a general dentist having training in these procedures.
Related Periodontal (Gum) Disease Articles
The Link Between Heart & Gum Diseases
Inflammation has emerged as a factor that is involved in the process of Cardiovascular Disease (CVD), which commonly results in heart attacks and strokes. While the precise role inflammation plays in causing chronic CVD remains an area of intense current investigation, much more is now known. The good news is that, based on current research, we know that if we can reduce the inflammation caused by periodontal disease, we can reduce the risk for heart attacks and strokes... Read Article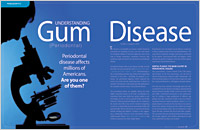 Understanding Gum (Periodontal) Disease
Have your gums ever bled when you brushed or flossed? This most commonly overlooked simple sign may be the start of silent (periodontal) disease leading to tooth loss. Learn what you can do to prevent this problem and keep your teeth for life... Read Article
Diabetes & Periodontal Disease
Diabetes and periodontal disease are chronic inflammatory diseases that impact the health of millions of people. What you may not know is that diabetes and periodontal disease can adversely affect each other... Read Article
Warning Signs of Periodontal (Gum) Disease
This article provides the warning signs of periodontal (gum) disease. Don't wait until it's too late... Read Article
Related Periodontal (Gum) Surgery Articles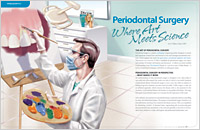 Periodontal Surgery - Where Art Meets Science
This article is an overview of how the art of plastic surgical procedures and the science of periodontics can enhance the health and beauty of your teeth. You will learn what periodontal surgery is designed to do, what makes it successful and what to expect during treatment... Read Article
Periodontal Plastic Surgery
Millions of Americans have some degree of gum recession — a loss of the tough, pink tissue that surrounds teeth. Receding gums can cause anything from minor tooth sensitivity to tooth loss in very severe cases. Fortunately, the field of periodontal plastic surgery has made enormous strides in devising techniques, including grafting, to deal with the problem of lost or damaged gum tissue... Read Article