Special Procedures
Teeth In A Day
If you're missing a tooth or more, you may find that there are other things you miss.
You may wish for your natural smile and the ability to chew food you desire. Maybe you feel self-conscious about your teeth and mouth, or discomfort as remaining teeth shift. And perhaps you've experienced muscle strains, an inability to speak clearly, headaches or unease in familiar situations at work, with friends or at home.
The effect of tooth loss varies from person to person and depends on what exactly has been lost. If the crown has been lost then so has the visible part of the tooth. If the root is lost as well, you have lost the unseen part of the tooth. The root anchors the tooth in the jawbone, providing stable support for the crown. Without the root, the bone around the lost tooth may gradually shrink or atrophy, and the remaining teeth may shift and chewing may become more difficult with time. There are a number of ways to replace tooth crowns. But if you are forced to replace your entire tooth - crown and root – the best option is dental implants.
The older techniques associated with dental implants generally require anywhere from five months to two years to complete.
A New Approach: "Teeth In A Day"
"Teeth In A Day" is a relatively new approach in dentistry. "Teeth In A Day" means replacing a single tooth by inserting an implant and, on the same day, attaching a temporary (acrylic) crown or a fixed bridge to the implant. The temporary acrylic crown or bridge is replaced by a more durable final prosthesis at a later date.
A larger form of such treatment involves converting an entire jaw with few or no teeth to a jaw with a full set of implant supported crowns or fixed bridges. Usually the initially placed teeth are temporary and, at a later date, are replaced by a final set of higher quality and more durable teeth.
Quality replacement of even one compromised or diseased tooth, or many such teeth, requires healthy gum and bone prior to any type of dental reconstruction or tooth replacement. Any disease and/or damage should be properly treated and controlled prior to the application of the "Teeth In A Day" procedure.
The Advantages
With the "Teeth In A Day" dental implant protocol, not only do patients get their new teeth at once, they have more natural looking teeth and gums than one could have imagined. Placing the tooth immediately has many advantages over implant procedures that only permits delayed tooth placement. For instance, delayed placement of a tooth allows the surrounding gums and bone tissues to shrink. Later, when a dentist then attempts to implant the tooth, the gums may have receded so far as to create an unnatural looking gum line or there may be inadequate bone remaining.
Other advantages of this cutting edge technology include: dramatic reduction in treatment time and the number of appointments, immediate full function of the new tooth, a natural cosmetic look and very little discomfort. In fact, some people have reported almost no pain at all.
Typically, dental implants are allowed to heal for twelve weeks to six or more months before they are used to support new teeth. The "Teeth In A Day" method can often be used to replace a single tooth, several teeth, or a full mouth of teeth, upper or lower, with remarkable comfort, predictability and aesthetics. Other procedures like extractions can also be accomplished at the same time as well. It is possible to walk into the treatment center missing one tooth or a whole mouthful of teeth, and leave with a completely new set of teeth that are firmly anchored-not dentures or removable temporaries.
Expected Outcomes
While extraction, implant placement and restoration may seem like extensive treatment for a patient to go through in one day, patients respond very favorably with little discomfort, swelling or disruption in their daily schedules. Our dentists at Esthetique Dentistry have performed this procedure on patients ranging in ages from their teens to their 90s with similar success. Patients who have undergone the procedure rarely take more than over-the-counter pain medication for a few days afterward. Also, they report a dramatic improvement in aesthetics, chewing ability, security and overall dental comfort as compared to failing teeth or loose irritating dentures.
Anyone who is missing one or more of their teeth due to injury, disease, or decay may be a candidate for dental implants and the "Teeth In A Day"approach.
Related Dental Implant Articles
Dental Implants – Your Third Set of Teeth
A discovery fifty years ago paved the way for one of dentistry's most exciting, natural looking and successful tooth replacement systems. Learn how dental implants might just possibly change your life... Read Article
The Hidden Consequences of Losing Teeth
For those missing even one tooth, an unsightly gap is actually the least significant problem. What's of far greater concern is the bone loss that inevitably follows tooth loss. Dental implants fused to the jawbone can preserve bone, improve function and enhance psychological well-being. Learn how implants serve both as anchors to support replacement teeth, and preserve bone as one of the better preventive maintenance procedures in dentistry... Read Article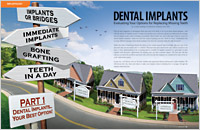 Dental Implants - Evaluating Your Options for Replacing Missing Teeth
As we guide you through the marketing hype you'll see that well planned implants most often require a team approach in assessing whether they're right for you. Not only are they a better treatment choice, they will last longer, possibly a lifetime, making them the right choice and the most cost effective option long term... Read Article
Implant Overdentures for the Lower Jaw
Implant overdentures represent a major change for the dental profession and the public. The lower jaw two-implant overdenture may be considered a more appropriate starting point over regular dentures... Read Article