We understand that dental emergencies can occur at the most inopportune moments in your life. Emergency dental care is a service we hope you'll never need - but if you do, it can be a lifesaver.
There are many reasons to seek emergency dental care. Sometimes, the pain of existing problems such as abscesses, swollen gums or infected mouth cuts can be too much to bear. Any kind of tooth damage -- broken dentures, lost crowns or fillings, or a broken tooth -- should be taken care of immediately, but doesn't always happen at the most convenient time.
Immediate relief from prescription-strength analgesics can become a necessity until the patient can be treated during office hours.
For a quick reference guide to aid you in some of the most common Dental emergencies and how to proceed, click this link to the American Dental Association's website.
We wish to be there for you when you need assistance. We want to support you with both information and service. If you are in need of emergency dental care, please do not hesitate to contact us, 24 hours a day, seven days a week at 800-952-9411, and dial the appropriate extension for the office nearest to you. (After hours/weekends) Please listen to the entire message and follow the telephone instructions to help you get the fastest response.
Our commitment to you is to provide you service within 24 hours of your call. We will call you back and make special arrangements to see you at the earliest time possible, and assist you with your need.
We'll have you smiling again in no time!
Related Dental Emergencies Articles
An Introduction to Sports Injuries & Dentistry
Dental injuries incurred during sports activities are highly treatable, and can involve positive outcomes if participants act quickly to see a dentist after an injury. However, if not treated quickly these kinds of injuries can lead to discomfort, embarrassment and a lifetime of dental costs... Read Article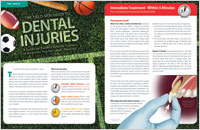 The Field-Side Guide to Dental Injuries
Accidents to the teeth, jaws and mouth can happen at any time during any sporting activity. Proper attention can save pain, alleviate anxiety and costly dental treatment. A little knowledge, as they say, can go along way. This field-side guide briefly explains some simple rules to follow when dealing with different dental injuries and when you need to see the dentist... Read Article
Athletic Mouthguards
There are times when an athlete can feel invincible... able to connect on every jump-shot, run faster and longer, or hit every pitch, but statistics show that even on their best days accidents can happen. An ounce of prevention goes a long way... For a small cost, a protective mouthguard can prevent excess anxiety, risk, injury, pain, suffering, and years of dental treatment... Read Article