Special Procedures
Smile Design
What is it about your smile that you do not like? Do you have a gummy smile or a chipped tooth in front? Or are your teeth just not white enough? Have you dreamed of the perfect smile makeover but do not know what procedures can best help you accomplish it? At Esthetique Dentistry, a qualified cosmetic dentist can design your perfect smile and give you a smile makeover.
At Esthetique Dentistry, we pride ourselves on combining the most advanced dentistry techniques with consummate skill and artistic flair. Whether you are interested in state-of-the-art orthodontics, permanent teeth whitening, or a complete Smile Makeover, our dentists will help you look your very best. We offer a full range of cosmetic dentistry treatments in our offices, designed to integrate the health, function and beauty of your smile.
Our Approach
In order to insure the highest possible satisfaction with smile improvement procedures, our dentists at Esthetique Dentistry--before doing any cosmetic dentistry work that involves multiple front teeth--will often perform a smile design consultation. We understand that communication with the patient over what they expect, what they want their teeth to look like, is critical to their success. A smile makeover is a self-esteem service. As such, if the result is not pleasing to the patient, the treatment is a failure. In order for you to be happy with the result, you need to have strong input into the artistic planning of your smile. To help you accomplish that, we make sure to review with the patient the various options of smile design.
Factors that influence the smile design are:
Your facial shape. For example, a long face may need to accentuate width to appear more oval. Someone with attractive features in the center of the face may need bold central incisors to draw attention to that center.
Your image aspirations. How do you want to appear to others? A sophisticated smile gives the appearance of more intelligence, maturity and judgment. A sexy smile gives the appearance of more warmth, energy and boldness.
Your age, or how old you want to appear. Longer central incisors make you appear younger. Also, whiter teeth make you appear younger. Conversely, a flatter smile or a more subdued color to the teeth make you appear more mature.
With your smile design consultation, an expert dentist will go over all of these factors. We may have you pick a smile from a book of photographs of smiles. If we disagree with your pick, we will tell you and explain why, but the final decision is still yours. Ultimately, you have to be the one who is happy with your smile.
At Esthetique Dentistry, our dentists have a certain passion about esthetics and creating beautiful smiles. If you are contemplating a smile makeover, come see us and discover the various options available to you.
Related Smile Makeover Articles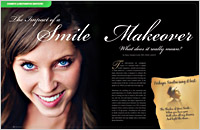 The Impact of a Smile Makeover
Americans are catching on to the emotional and social importance of a healthy, beautiful smile, and they're seeking out ways to improve their smiles. Learn why and what a change could mean for you... Read Article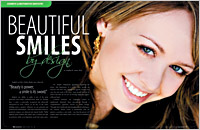 Beautiful Smiles by Design
The first in a series of articles dedicated to the "art and science" of designing a more appealing smile. One of the country's foremost leaders in cosmetic dentistry discusses how you and your dentist partner to create a great new look... Read Article