Porcelain
Resin Composite
Lumineers
Since porcelain veneers are more resistant to stains and chipping, they are generally more expensive. Lumineers are a particularly popular type of porcelain veneers that do not require your teeth to be shaved and can even be placed over crown or bridgework. A custom-made set of Lumineers can be installed in 2-3 visits and is proven to last over 20 years.

What does getting porcelain veneers involve?

Getting veneers usually requires two visits to complete the process, with little or no anesthesia required during the procedure. The teeth are prepared by lightly buffing and shaping the surface to allow for the thickness of the veneer. A mold or impression of the teeth is taken and a shade (color) will then be chosen by you and the dentist.

On the second visit the teeth will be cleansed with special liquids to achieve a durable bond. Bonding cement is then placed between the tooth and veneer and a special light beam is used to harden and set the bond.
You will receive care instructions for veneers. Proper brushing, flossing and regular dental visits will aid in the life of your new veneers.

How Much Do Veneers Cost?

Depending on the experience of your dentist and the material or brand being used, veneers can cost from $500 to $2000 a tooth. Porcelain veneers are generally the most expensive and longest lasting. Lumineers can cost from $700 to $1100 per tooth.

Will My Insurance Cover Veneers?

As this procedure is elective and primarily cosmetic, most dental insurers will not cover veneers. However, veneers can be financed either through your dentist or an outside company such as Care Credit or DentalFeePlan,
Lumineers
The Den-Mat Corporation has patented a type of porcelain veneer called Lumineer, and we are proud to announce our full certification in Lumineer application. Lumineers are different than regular veneers in that:
Lumineers are stronger
Lumineers are thinner - about as thin as a contact lens
There is no drilling required to attach Lumineers
Existing dental work does not have to be replaced
Lumineers can be almost half the cost of traditional veneers
The procedure can be reversed (since the existing tooth is not changed in any way)
Lumineers work great for fixing gapped teeth, teeth that slope inward, or teeth that are too small. Because there is no drilling, Lumineers are nearly painless to apply.
Related Porcelain Veneer Articles
Smile Design Enhanced with Porcelain Veneers
In part two of the series on Smile Design, Dear Doctor takes an in-depth look at Porcelain Veneers, a superior yet minimally invasive technique for smile enhancement. We'll explain not only when they're appropriate, but also when they're not... Read Article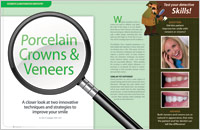 Porcelain Crowns & Veneers
A closer look at two innovative techniques and strategies to improve your smile. In many instances these two restorative techniques can produce nearly identical esthetic results, even though they are structurally different... Read Article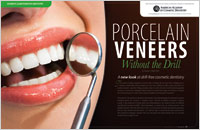 Porcelain Veneers – Without A Drill
No drilling — reality or ridiculous? A no-drill technique requires a second look, as new materials and concepts have created new esthetic possibilities. Reactions and opinions among dentists have ranged from absolute disbelief to moderate acceptance. This article gives hope and reasons for patients to get excited about this conservative drill-free cosmetic technique... Read Article